The Bimbadgen Palmers Lane wedding of Francesca & Kate was a beautiful same sex wedding in one of the most picturesque locations in the Hunter Valley.
This was my first time to Bimbadgen Palmers Lane in the Hunter Valley. But I quickly realised that I had been there before it was an actual wedding venue. It used to be one of my favourite locations on a wedding day. It has gorgeous rolling hills with vines and lots of long grass, that really shows off the beauty of the Hunter Valley region.
Bimbagen Palmers Lane is actually separate from Bimbagen winery. Bimbagen Winery used to do weddings but because they do a lot of concerts there, they were never really able to book weddings too far out. So this obviously made it tricky for couples trying to plan a wedding.
Now, Bimbagen Palmers Lane is a purpose built wedding venue and it has quickly become one of my favourites. It is perfect for country weddings and is located in such a beautiful spot.
The Wedding Day
On the wedding day, Francesca got ready on one of the properties onsite while Kate got ready at her parent's place which was literally three minutes down the road. Bonnie-Lee did a beautiful job with makeup.
The wedding ceremony was held between the two trees overlooking vineyards and mountains. It was stunning! The celebrant was Mel from Hitched in the Hunter, who always does an amazing job.
But what was even better was seeing two people so totally in love and so happy together. They couldn't stop giggling and laughing the whole ceremony.
After the ceremony, we all hopped on their quad bike and drove around the property for a few sunset photos.
The wedding reception was held out under the stars and looked stunning. I love how personal Francesca & Kate made their reception. They wrote an individual message and individual photo for each wedding guest. Which would have taken a lot of work and I don't think I have seen done before at a wedding I have shot. After eating and some beautiful, touching speeches, there was some awesome dance floor craziness till late into the night.
This Bimbagen Palmers Lane wedding was an amazing day to be a part of and I can see this venue becoming one of the most popular wedding venues in the Hunter Valley.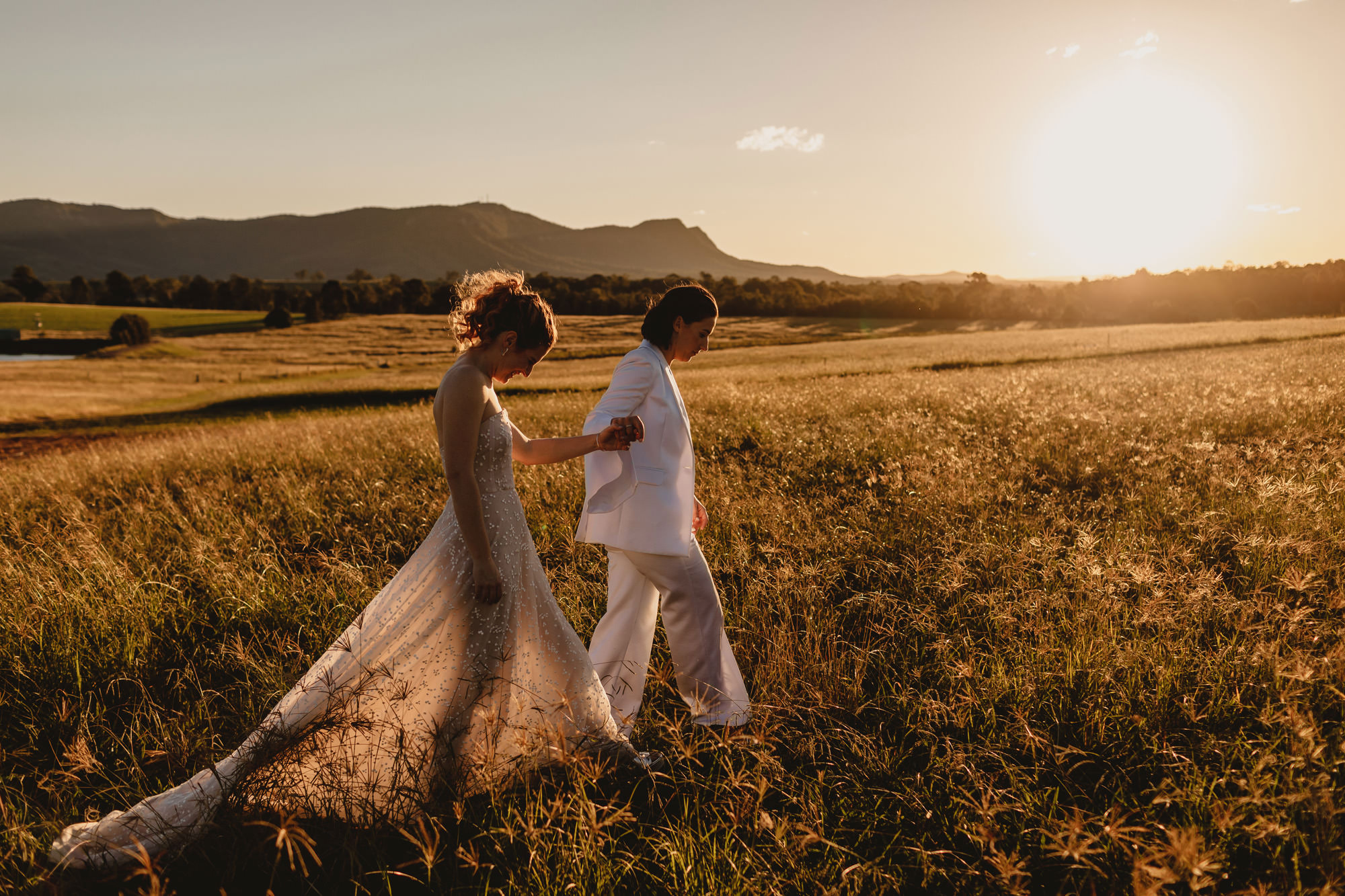 "Wives forever!" – Kate + Francesca